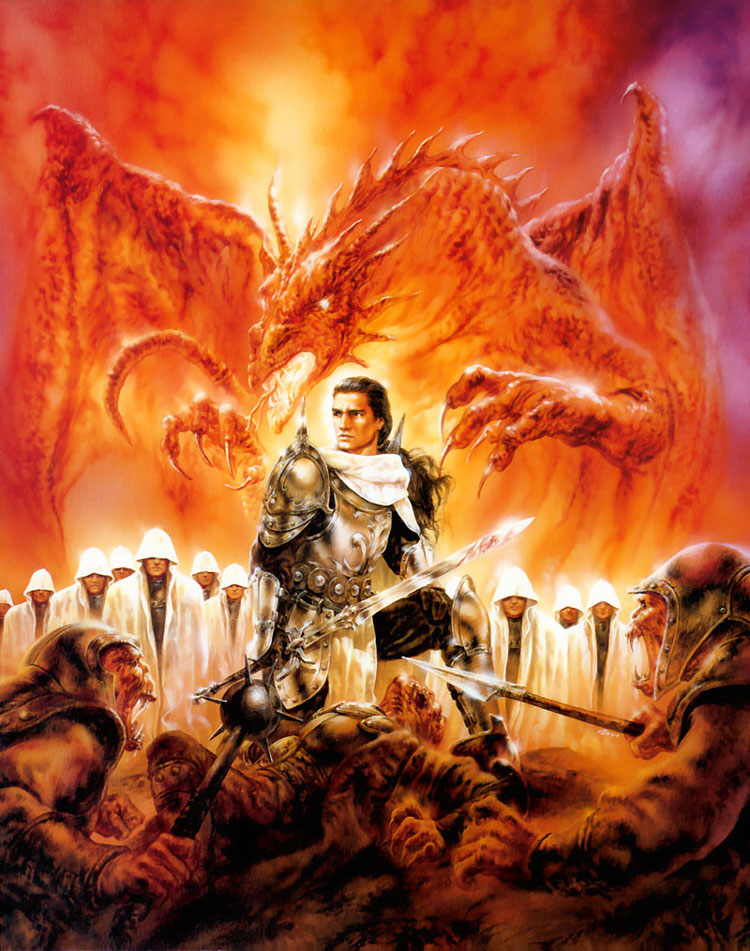 "Used with permission" by Artist, Luis Royo Title of the piece "The King Beyond The Gate"
Stats:
Name:Ranalf Delenbarg
Nicknames:"Ran-elf"
Sex:Male
Race:Human
Age:25
Height:6'3"
Weight:220
Hair:Dark brown past shoulders and tied back
Eye color:Brown
Appearance:(as pictured above)
Occupation:Knight, Head Guard to the King and Queen of Darasaee
Birthplace:Trenabe
Outward attitude:A Gallant fighter, charming and kind
Inward Nature:Lost
Weapons:Broadsword, several daggers hidden on his persona
Abilities:None
Spells:None
Creatures/Pets/Familiars:None
Special Notes:Defending the King of Trenabe, he was disgracefully thrown through a portal out of the realm and is now a fallen knight to himself, failing in his fight to defend his King. He is now in Darasaee making a life for himself after his disgrace. Stephan is a good chap and doesn't hold such against him.
Copyright Anna Marie Hoyer, All Rights Reserved. All Artwork found within the pages is copyright the original artist. All Poetry within the pages copyright the orignal writer, All character biographys copyright the player of the character and used here with their permission. All titles done by Vermillion Draven and Gem Bluestone. Page layouts created and made by Anna Marie Hoyer. This page is a Non Profit, For entertainment only page. Do NOT take from my page unless you have prior written consent from the artists.