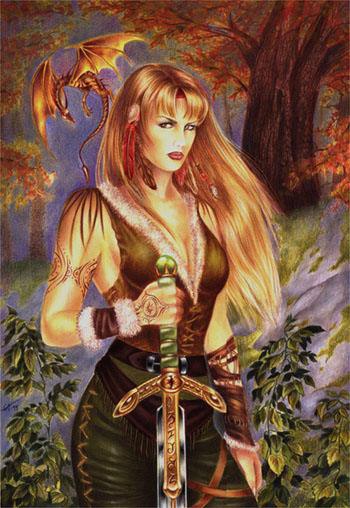 "Used with Permission by Artist" Claire Salvatori Title, "In The Woods"
Stats:
Name:Juliette DesAnges
Nicknames:
Sex:Female
Race: Human
Age:26
Height:5'6"
Weight:140
Hair:Blonde
Eye color:Steel Grey
Appearance:Blonde and grey eyes, dressed in the earthly clothes of her time a woman of France thrown into this world and realm of Fantasy.
Occupation:A story yet left to tell
Birthplace:France, Earth
Outward attitude:Haughty
Inward Nature:frightened and alone
Weapons:None
Abilities:Unknown
Spells:None
Creatures/Pets/Familiars:None
Special Notes:Juliette finally married her beloved Kadrec in May 2001. She is now content with him and living a happy life.
Juliettes Homepage
Copyright Anna Marie Hoyer, All Rights Reserved. All Artwork found within the pages is copyright the original artist. All Poetry within the pages copyright the orignal writer, All character biographys copyright the player of the character and used here with their permission. All titles done by Vermillion Draven and Gem Bluestone. Page layouts created and made by Anna Marie Hoyer. This page is a Non Profit, For entertainment only page. Do NOT take from my page unless you have prior written consent from the artists.